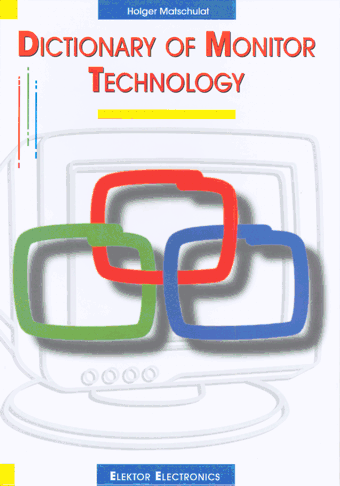 Startseite:

home:
Titel: Dictionary of Monitor Technology
Author: Holger Matschulat
The Dictionary of Monitor Technology is a pioneering book of unsurpassed range which clearly documents all aspects of the development of computer monitors. The subjects covered extend from the first 12-inch IBM monitor to today's high-tech units.
Easy-to-understand explanations of the functioning of monitors with cathode ray tubes and their problems lead on to the complex and rapidly changing world of monitor technology. A troubleshooting guide and numerous descriptions of problem cases enable the reader to analyse and remedy faults – without opening the monitor.
An introduction to flat-screen monitors explains the fundamentals of LCD screens, TFT displays and the next stage of plasma technology.
The major part of the book is in the form of a reference work. Over 620 internationally used monitor-specific terms are definde.
This book is a mine of practical information and will quickly become required reading for all computer users with an interest in technology, successful hardware sales staff and repair engineers.
The author:
The author is a graduate telecommunications engineer and qualified radio an TV technician whose service company worked for the German subsidiary of a renowned Taiwanese monitor manufacturer from 1985 onwards. Since 1996 he has run his own quality management consultancy; he has also established a reputation as a specialist journalist for monitor technology.
Elektor Electronics (Publishing)
P.O. Box 190
Tunbridge Wells
England TN5 7WY
ISBN 0-905705-64-5
265 pages